The NSW Rural Fire Service. And we need them as Australia is one of the most fire-prone regions on the planet.
Residents of Berrigan, a small town in southern NSW, got together more than 100 years ago to form the first volunteer bushfire brigade in NSW. This was the origin of the NSW Rural Fire Service.
The Service has grown from these beginnings to a force of over 75,000 volunteers and almost 2000 brigades, that protect almost 99% of New South Wales land area. They are the lead agency for bush and grass fires in NSW although they work closely with other agencies at many other types of incidents, from motor vehicles accidents, structure fires, storm damage, search & rescue, and during the winter months are active with hazard reduction and community engagement activities.
NSWRFS has a long history of helping other states and regions in their time of need. Volunteers and staff have assisted when called upon by other Australian States and Territories, as well as travelling overseas i.e. to USA and Canada.
All volunteers are highly trained in many skills as the Service has a focus on the continual development of their members' capabilities and skills to ensure they manage all types of situations they face, safely and appropriately.
And they do this without financial compensation, in their own time, as most members have other full-time jobs and families to support.
Fire and Rescue New South Wales is an agency of the Government of New South Wales and is responsible for firefighting, rescue and HazMat services in the major cities, metropolitan areas and towns across New South Wales, and is one of the world's largest urban fire & rescue services.
In the 1820s the only form of Fire Brigade in NSW consisted of soldiers from the Military who were trained to use firefighting equipment and vehicles. In 1884 The Fire Brigades Act came into effect which essentially was the start of a centralised firefighting agency – The Metropolitan Fire Brigade, which later, in 1910, became known as the New South Wales Fire Brigade (with a name change to Fire and Rescue NSW in 2011).
As an agency of the NSW Government, all Fire and Rescue NSW members are fulltime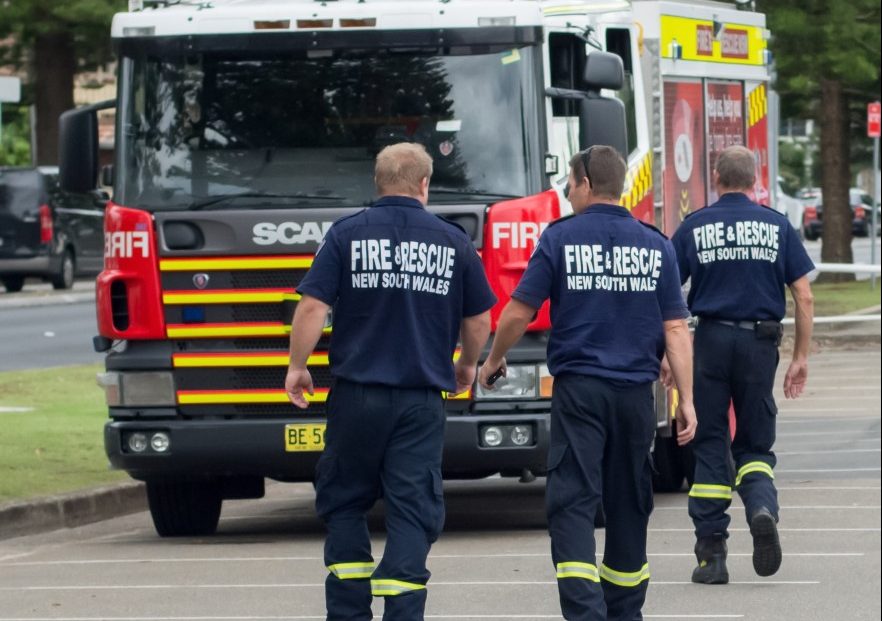 Although two separate agencies, NSW Rural Fire Service and Fire and Rescue NSW work in partnership where an incident may be on the interface of the different agency's areas of responsibilities. An example would be the major NSW bushfires event of 2019/2020 where both agencies responded together in many situations.
Not only does NSW RFS commit personnel to support firefighting activities in other Australian states and territories, but also share their equipment and resources including the fleet of helicopters and 737 aircraft. An example of this is the recent Western Australia bushfires (2021) where NSWRFS have sent their Large Air Tanker (LAT) Marie Bashir to join local fire agencies to combat fires, and one of their state-of-the-art firefighting helicopters was put to good use to help protect the community of Forbes, to assist the NSW State Emergency Service (NSW SES) and local brigades with the emergency response to flooding in the region in 2021.
The helicopter has been reconfigured to meet the specific needs of the NSW RFS, including the installation of the winch, belly tank and a surveillance camera for use in firefighting operations, search and rescue, and down the wire insertions and extractions, and joins their fleet of three multi-purposed helicopters that are pre-positioned around the State for rapid deployment regionally during the bush fire season as required.
Whilst Australia may be one of the most fire-prone regions on the planet, a major focus on Australia's fire-fighting agencies is to provide the capability and resources to fight fires and protect the community from emergencies – Protect life and property and assist to restore normality.
The NSW RFS has a variety of sources of information during emergency incidents including;
Fires Near Me – this page provides you with details such as the location, size, alert level and status of an incident.
Major Fire Updates – during major incidents, these updates provide you with detailed information and advice.
Social Media and Apps – The NSW RFS uses social media to engage with the community and to provide information on incidents and activities attended by volunteers;
Fires Near Me App – iOS | Android
NSW Rural Fire Service Facebook – www.facebook.com/nswrfs
Other Australian states and Territories have their own Volunteer & Government fire services working together to protect Australia. For updates on fires or incidents involving these fire authorities outside of NSW please check their websites listed below;
GET IN TOUCH
Are you ready for peace of mind that your workforce is as safe and prepared as possible?
With a dedicated team of staff ready to help you meet compliance requirements and improve the overall safety of your workplace, all you need to do is get in touch.
Request your free audit today!