Australian Standards for Cots
A safe cot is one that meets the Australian standard AS/NZS 2172:2013. Various organisations provide recognised guidance to families and childcare centres so that they can have confidence that the cot they purchase has safe features for babies and children.
The Australian Competition & Consumer Commission (ACCC) has produced a brochure on their website that summarises the main points for cot safety and includes a diagram giving the measurements from the Australian Standards. They have developed a labelled diagram as part of an information sheet on their website here.
Household cots
The ACCC diagram below describes the important measurements for cot safety. These measurements prevent a small child from climbing out of the cot and also prevent entrapment of their head or arms between the rungs of the sides of the cot. It is important to make sure that protrusions from the top of the cot are no larger than 8mm. This prevents clothing from being caught and tangling the child. A cot needs either two legs without castors or if there are four castors, then two of these need to have brakes. If you purchase a mattress separately, check that the gap between the cot and the sides and ends of the mattress are no greater than 20mm. The mattress should be a snug fit in the cot.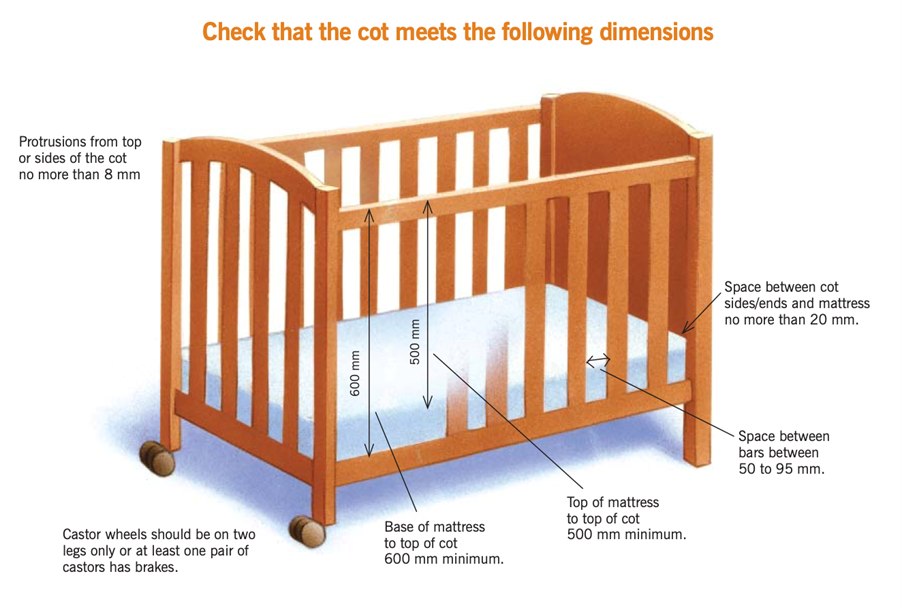 Cots in Childcare Centres
The Australian Standard for cots also applies to cots in childcare centres. As educators in the centre lift babies and children in and out of cots regularly, they are most often much higher off the ground. At least one side of the cot has rails that lower to reduce back strain when placing children in the cot or lifting them out of the cot.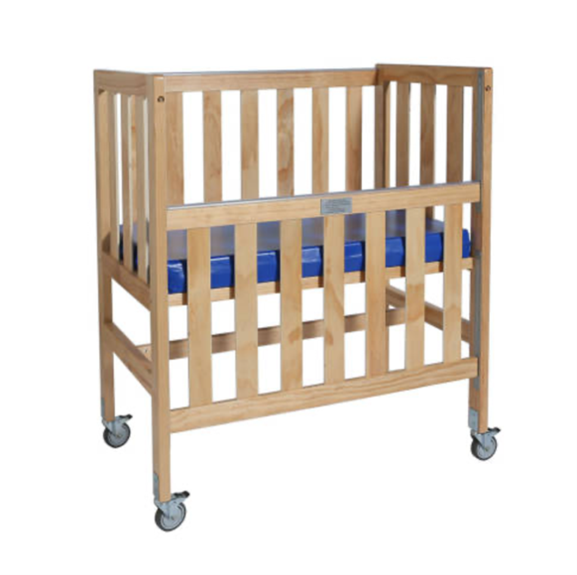 These cots are often referred to as ergonomic cots referring to the reduction of back strain for educators and families when using the cot.  Childcare centres also look for additional durability as cots are used daily over a period of years.  They have a stainless steel dropside mechanisms and often a 'teething' rail along the top of the dropsides. The castors allow childcare centres to reconfigure the cot room or nursery easily.
Evacuation cots
Every childcare centre in Australia has an emergency evacuation plan and practises an evacuation every 3 months to comply with Regulation 97 of the National Childcare Regulations.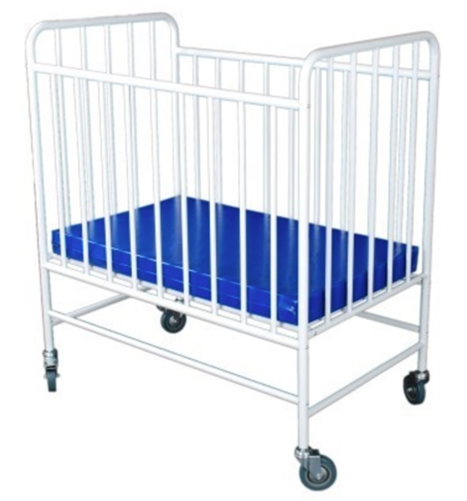 To evacuate small children and babies safely, childcare centres may use a pram that can fit up to four babies or small children. They can also use an evacuation cot which is a cot that complies to the usual Australian standard for cots but has some additional features. They can be entirely made of metal or wooden cots have a reinforced metal frame to increase the sturdiness of the cot as it is moved.  There are large 10cm castors on each leg with foot operated quick release brakes on at least 2 castors. These cots are designed to take larger than usual loads so that 4 or 5 small children can lie or sit in the cot to be evacuated. The cot is also designed to fit through standard doorways.
Second hand cots
While the Australian Standards apply to new cots, to give your baby a safe sleeping environment, then use the diagram from the ACCC above to check the cot's safety features.  Take the diagram with you when you go to inspect a cot and take a tape measure with you as well.   The cot will need to be fully assembled for you to check the key safety measurements. Ask the seller if the cot is fully assembled before you head out to see it. The mattress must be a snug fit to prevent a child being caught between the mattress and the cot. If the cot and mattress are the same brand, check the overall measurements. If you are buying a new mattress or replacing a mattress, then measure the internal measurements of your cot carefully so that there is no more than a 2cm (20mm) gap.
Cot Bumper Pads
Recognised guidance is provided by both the Red Nose and KidSafe NSW organisations and they are in agreement that cot bumpers should not be used in cots:
"bumpers put children at greater risk for suffocation or strangulation. It is nearly impossible for an infant to hit his or her head hard enough on the crib to cause bruising or injury"
KidSafe NSW
Red Nose safe sleeping
Red Nose safe sleeping is recognised as Australia's foremost organisation with evidence-based advice on safe sleeping practices for babies. Visit their website and read their fact sheets for safe sleeping.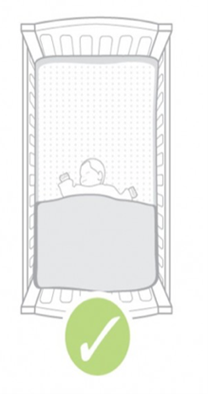 They also include helpful diagrams such as this one above that show how to set up a cot for safe sleeping. Note that there are no cot bumpers.
Visit the Red Nose website and check their booklets and posters for free download here.
GET IN TOUCH
Are you ready for peace of mind that your workforce is as safe and prepared as possible?
With a dedicated team of staff ready to help you meet compliance requirements and improve the overall safety of your workplace, all you need to do is get in touch.
Request your free audit today!